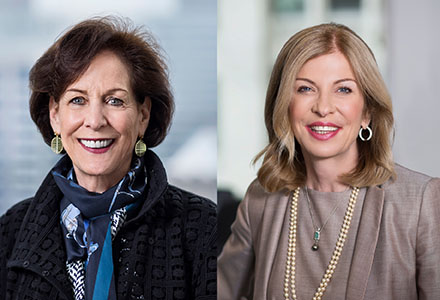 William Blair's Louise Lane and Carlette McMullan were recognized as Top Women Wealth Advisors in America by Forbes magazine this week.
Lane, #3, and McMullan, #6, were in the top tier of the 52 wealth advisors listed from Illinois. Both are partners of the firm and have been recognized as Top Women Wealth Advisors by Forbes in previous years. They have an average tenure of 33 years serving William Blair clients.
"Louise and Carlette are integral members of the William Blair private wealth team and receiving this honor for multiple years underscores the financial expertise they and their teams bring to clients," said Ryan DeVore, William Blair's global head of private wealth management. "Their dedication to serving clients through customized investment strategies, the firm's research and advanced financial planning are hallmarks of William Blair's wealth-management services."
The rankings were based on data provided by more than 11,500 top-performing advisors from across the country, evaluating assets under management, client service and retention, and compliance records.
Lane, McMullan and their teams serve high-net-worth individuals and families, organizations and foundations to achieve their investment goals, strengthen family legacies, and endow their clients' charitable activities.
Earlier this year the advisors were honored as top state advisors by Forbes.
Forbes 2020 Top Women Wealth Advisors in America