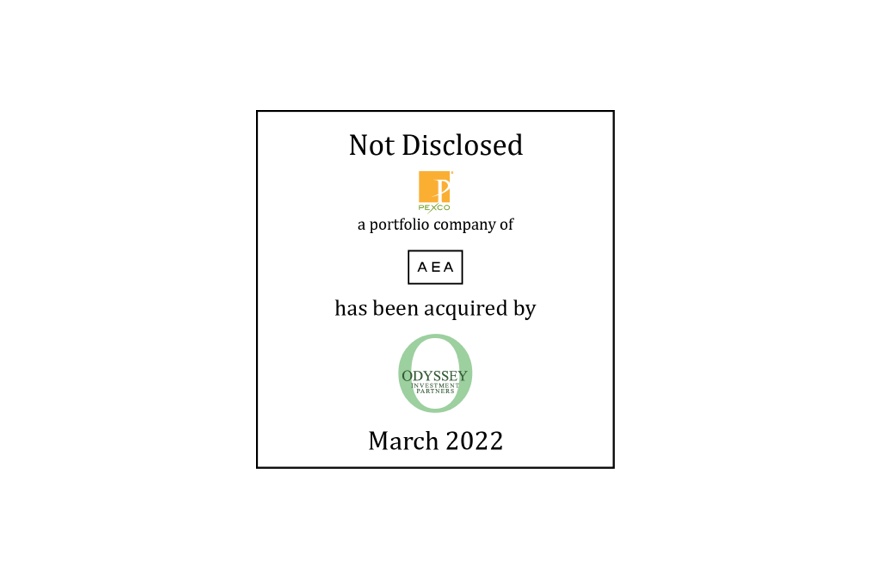 William Blair acted as the exclusive financial advisor to Pexco, a portfolio company of AEA Investors, in connection with its sale to Odyssey Investment Partners. The transaction closed on March 8, 2022.
About the Companies
Based in Atlanta with multiple plants across the United States and Mexico, Pexco is a North American leader in the design and fabrication of engineered plastic components. The company provides standard and specialty parts and components to manufacturers and end-users for a broad range of custom applications, including the specialty industrial, fluid-handling, lighting, traffic safety, fence, and electrical insulation industries. Pexco offers a full range of custom design, engineering, and fabrication services, including ISO 9001:2015 registration, across its manufacturing operations.
AEA Investors LP was founded in 1968 by the Rockefeller, Mellon, and Harriman family interests and S.G. Warburg & Co. as a private investment vehicle for a select group of industrial family offices with substantial assets. AEA's active individual investors include an extraordinary network of more than 75 of the world's leading industrial families, business executives, and former government leaders. Today, AEA's approximately 100 investment professionals operate globally with offices in New York, Connecticut, London, Munich and Shanghai. The firm manages funds that have over $15 billion of invested and committed capital including the leveraged buyouts of middle market companies and small business companies, growth capital and mezzanine and senior debt investments.
Odyssey Investment Partners, with offices in New York and Los Angeles, is a leading private equity investment firm with a more than 25-year history of partnering with skilled managers to transform middle-market companies into more efficient and diversified businesses with strong growth profiles. Odyssey makes majority-controlled investments in industries with a long-term positive outlook and favorable secular trends.
Learn more about our industrial growth products investment banking expertise.