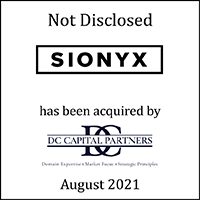 William Blair acted as the exclusive financial advisor to SiOnyx, a privately held company, in connection with its sale to DC Capital Partners. The transaction closed on August 11, 2021.
Transaction Highlights
Deep and broad sector knowledge: SiOnyx valued William Blair's deep industrial technology, aerospace & defense, and consumer M&A experience. William Blair's familiarity with the company's defense and consumer end-markets coupled with a deep understanding of the technology was essential to optimally positioning SiOnyx for strategic and financial buyers.
Successful positioning: William Blair's transaction team clearly articulated SiOnyx's market leading technology, position in accelerating government programs, and large future market and growth opportunities. Detailed financial projections, as well as market support for the several growth opportunities were developed to demonstrate the strong and outsized growth across the company's diverse end-markets and customer base.
Process and execution excellence: The transaction team designed a high-touch marketing process targeting a select group of the most aggressive strategic and financial buyers based on sectors insights and knowledge from recent William Blair sale processes. The transaction structure and execution yielded multiple bids which resulted in a premium outcome for the client.
About the Companies
SiOnyx™ is an image sensor and camera company specializing in low light and near infrared imaging. Based in Massachusetts, SiOnyx products include the XQE™ family of CMOS image sensors, ultra-low-light camera modules, and the Aurora day/night action camera for capturing all of life's moments. SiOnyx serves both the defense and outdoor enthusiast markets.
DC Capital Partners is a private equity investment firm that makes control equity investments in middle market companies that provide differentiated and innovative services and solutions in the government contracting and engineering and consulting services markets.
Learn more about our industrial growth products and aerospace, defense, and government services investment banking expertise.