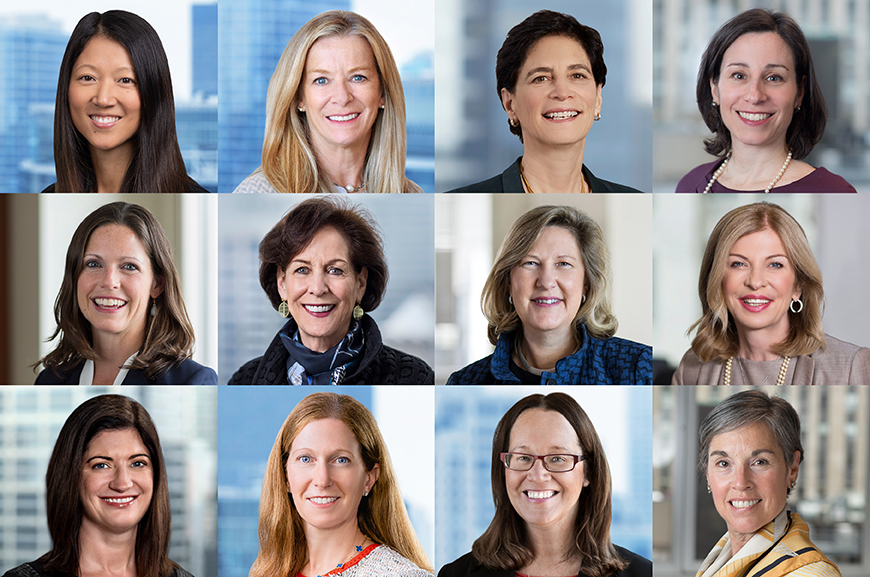 Forbes magazine named 12 William Blair colleagues to its 2022 top women wealth advisors lists released February 4. The advisors are based in William Blair's Atlanta, Boston, Chicago, and New York City offices.
Kim Tyson Chenevey (Atlanta), Barbara Cummings (Boston), Eve Ellis (New York City), Jill Arkwright Harvey (New York City), Lindsey Holton (Chicago), Louise Lane (Chicago), Laura Linger (Chicago), Carlette McMullan (Chicago), Sarah Mercurio, (Chicago) Jackie Moss (Chicago), Geralyn Sullivan (Chicago), and Linda Sutkin (New York City) were named best-in-state women advisors by Forbes.
Lane and Mercurio were also named to Forbes America's Top Women Wealth Advisors list.
"It's wonderful to see the increasing number of colleagues from across the country named as top women advisors," said Ryan DeVore, global head of William Blair's Private Wealth Management group. "Their expertise in advising individuals and families on wealth management underscores the depth and breadth of expertise that our clients depend on from William Blair wealth management teams. Congratulations to these outstanding advisors."
The rankings are based on data provided by more than 15,000 top-performing women advisors nationwide, evaluating several factors including assets under management, industry experience, and compliance records.
The 12 advisors have an average tenure of more than two decades in financial services. They and their teams serve individuals, families, organizations, and foundations to help them achieve their investment goals, strengthen family legacies, and endow their clients' charitable activities.
Forbes 2022 Best-in-State Women Wealth Advisors
Forbes 2022 America's Top Women Wealth Advisors